As a product team, we strive to make the complex world of video surveillance and physical security more manageable for your day to day operations. We understand that security is all about response time and gathering the right information in a timely manner. 
The first step in any investigation is to identify the correct device; but this can be a cumbersome task – especially for those managing large systems across multiple locations. That's why we're excited to introduce a new feature on the Arcules platform called Floor Plan – a simple and effective way to know where your devices are. 
Floor Plan saves time and improves workflows
Today, you can view all the devices for your organization or filter the list down by site or location. Floor Plan is an even deeper refinement of your device list. The majority of customers have dozens of cameras on each floor and even more than 100 at a single site, which can make finding the "right" camera a frustration that can be easily avoided with the right tools. That's why the introduction of Floor Plan is so important: We wanted to make it easy for you to get a physical overview of your locations, including your devices like cameras and door controllers, without ever having to set foot in the building. Sounds amazing, right?
Here's how it's done: 
Faster incident response
Even if you operate a smaller site with just a few cameras, knowing where those devices are located becomes an essential part of incident response and your ability to take action. No matter the size of the facility, Floor Plan helps you easily navigate to the floor or area of your workspace by selecting the view you're interested in. Clicking on the device icon brings you directly to the video feed or access control actions. It's as easy as that!
Installation and deployment


As devices are installed and added to a floor plan, installers and system designers can easily track which cameras and doors are up and running. This streamlines the process for all parties involved and results in fewer errors and delays during setup.

Replacing a device
Installers can refer to the floor plan to locate the correct device to swap or replace.
Health monitoring
Get a physical overview of the health status of your devices at a glance to see which unhealthy or impacted device may need your attention.
Seamless onboarding
Onboarding a new staff member or operator just got easier. A new staff member can familiarize themselves with a space in less time than it would take to physically walk through the facility. The best part is that they can do this all within the comfort of their own home.
How it works: 
Setting up your floor plan
System admins can upload floor plan images to any location in their organization. Once uploaded, devices can be dragged onto the floor plan. Further customize by specifying device type and rotation to the correct field of view. Floor plans are so easy anyone can do it.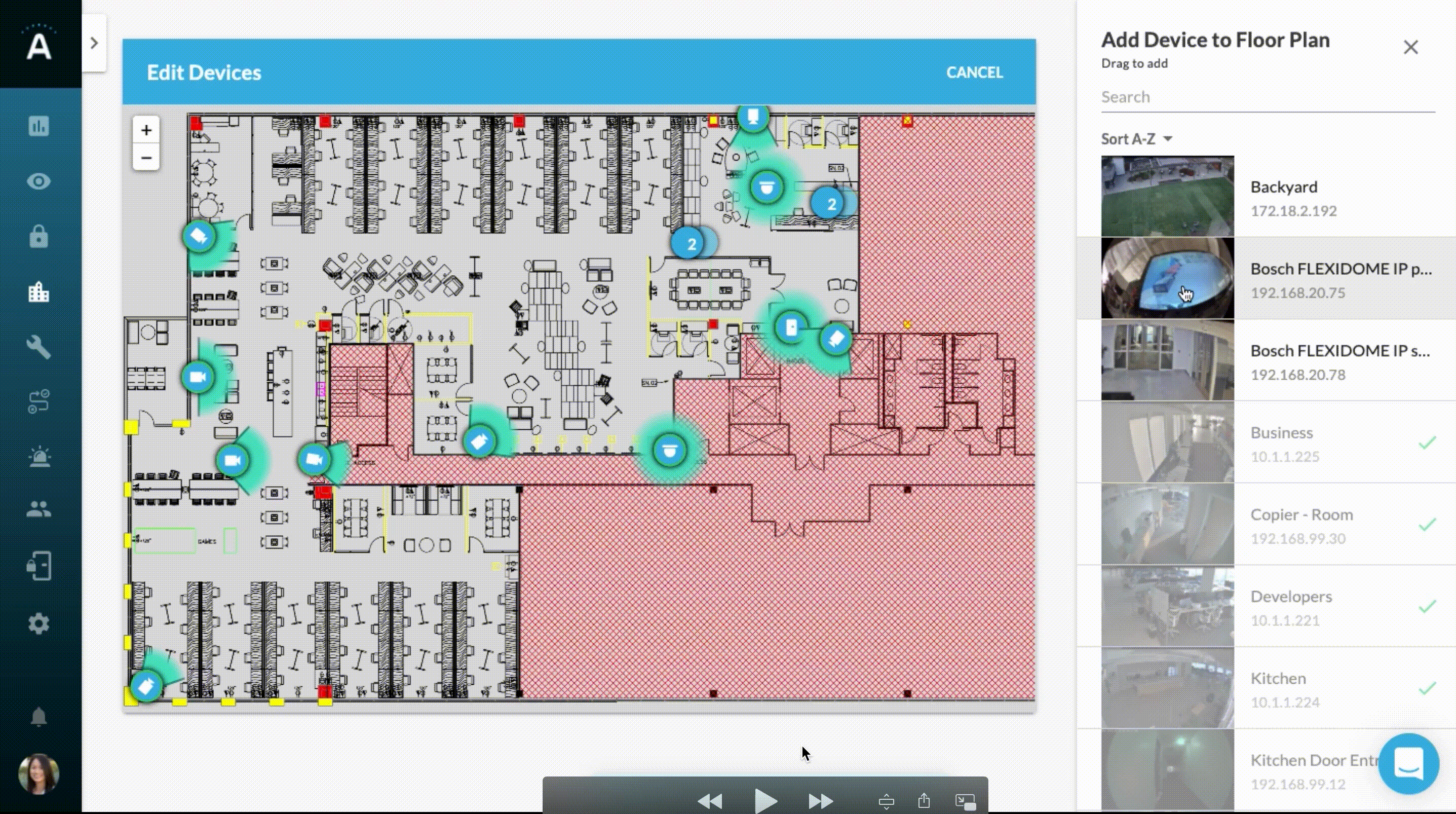 Drag and drop devices onto a floor plan
Viewing health on floor plans
At a glance, you can see the health status of your devices marked with green or red, along with the associated icons for access control doors or video cameras. You can stay calm and carry on if everything is green. Red means an offline device requires some attention. We can't fix this for you, but we've built tools to help you troubleshoot the issue. Click the device to find the offline timestamp or use the simple network diagnostics tool for troubleshooting.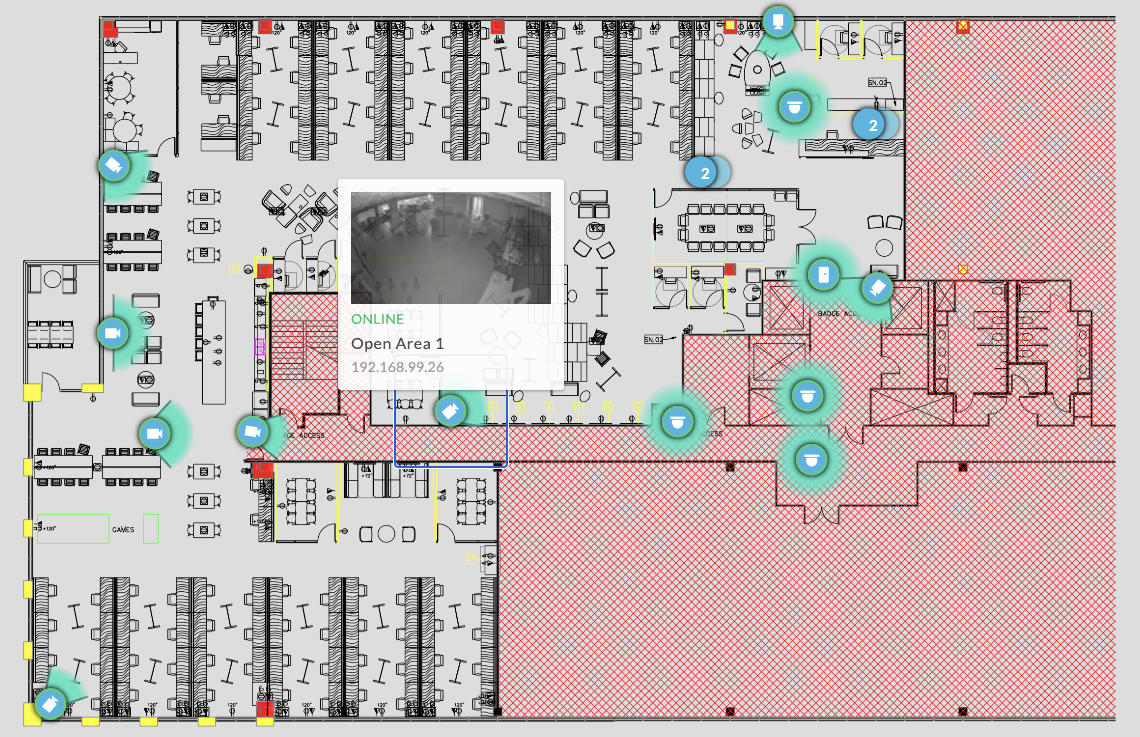 See the health status of devices to determine if there are any impacted devices
Monitor video on floors
We automagically create grids of cameras on the floor plan for your live viewing pleasure. Use the grid view or the floor plan to initiate synchronized playback on multiple cameras to quickly access and review footage at the time of an incident or what we like to call the "money shot."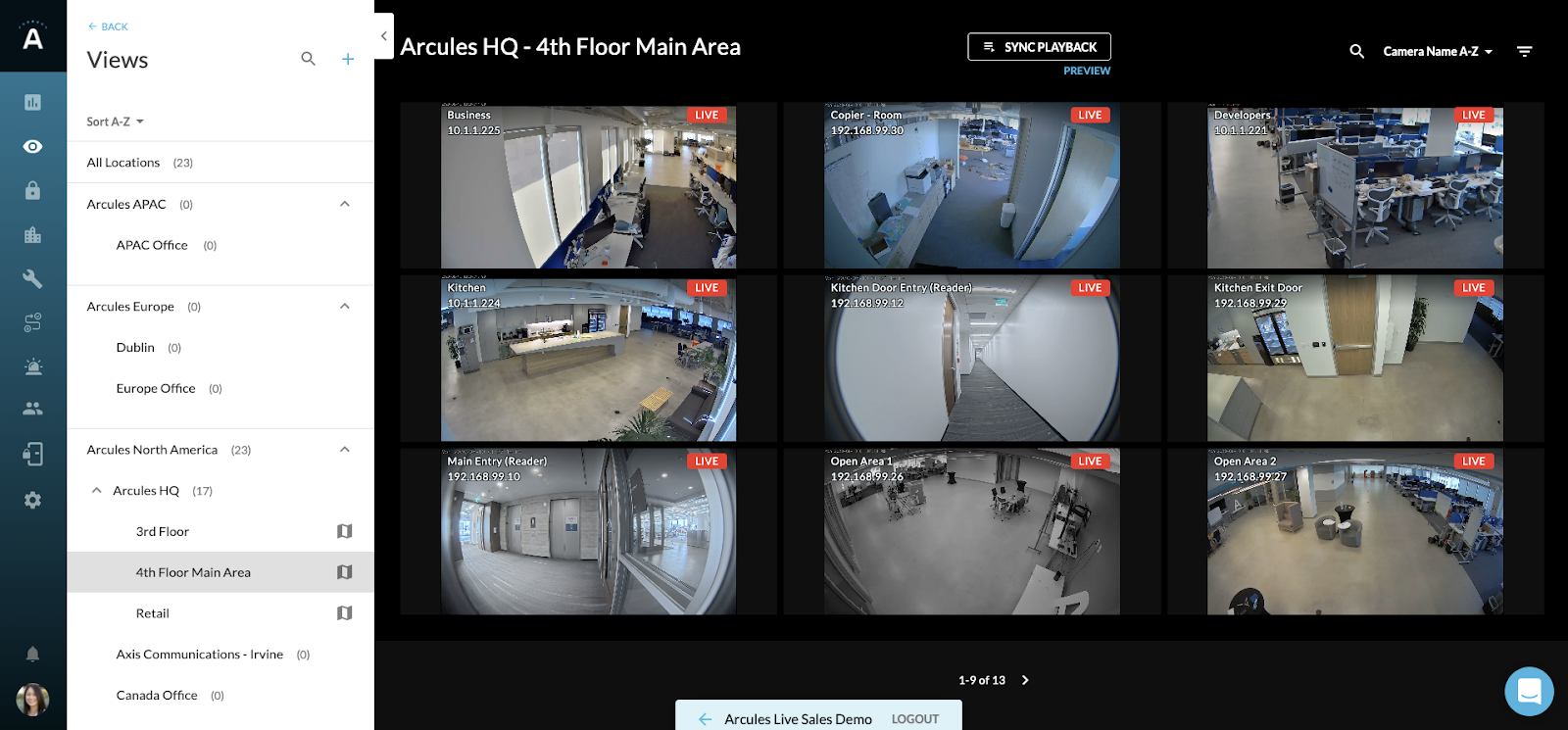 Use the grid view to watch live video and synchronize playback recorded video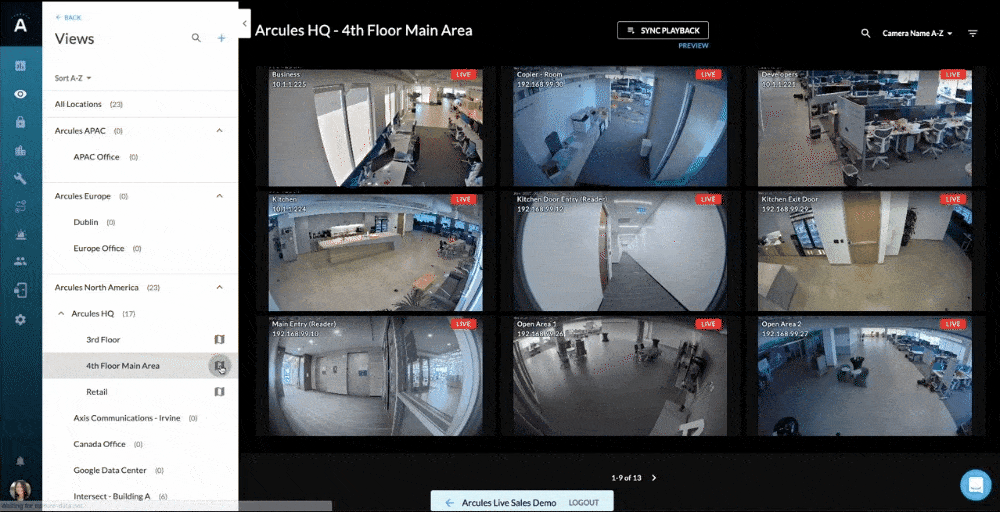 Or use the floor plan to synchronize and playback recorded video
Try it for yourself:
Excited to try out Floor Plans? See for yourself what it's like to create one!
Existing Arcules customers can test-drive Floor Plan View inside the Arcules web platform. Feel free to use this Floor Plan guide if you need help getting started.